Neither one of us likes the heat so trips to the park are at a minimum.  We did get a great breezy day –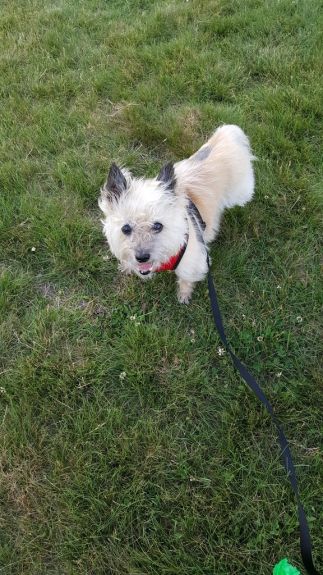 One thing I've noticed is Tai's complete behavioral change WRT to fireworks and thunder.  She used to be terrified of both and would sit next to me, shaking uncontrollably and wouldn't stop unless she was wedged between me and the chair.  Since her surgery (and this is was her first 4th of July post-surgery, though we've had a few thunderstorms) she is totally unconcerned.  She may lift her head and listen, but that's it.  I'm happy about this for her but wonder if anyone else had something similar happen?
We had a great morning at the farmer's market, and even though she did a huge poop BEFORE going, she did another one while walking around!  What manners 😀  luckily I was prepared.
She is snoozing now with her head hanging off her bed, which is a position she likes though she has rolled off of the bed a couple of times.  We're fully carpeted but she always looks at me like it is my fault, LOL. If I see her tilting, I try to gently wake and move her and that's my fault as well.  This is the bed she has rolled off of.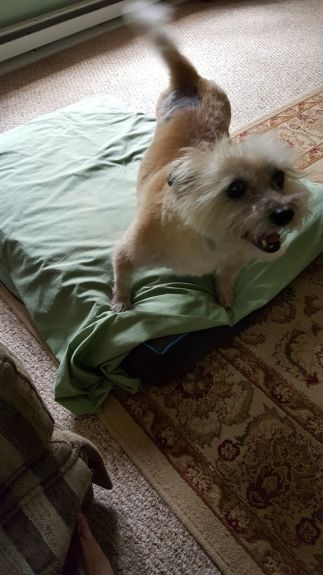 Happy Saturday all!
Whatever that means, but it is what Mom says.  Tai here.
So did I tell you that I get to go to work 3 days a week now??  I am training Mom right!  I like it, everyone pets me and talks to me and tells me how good I am.  I sometimes try to climb stairs but can only do one, sometimes…then I get stuck, so Mom carries me.  Oh well, I can't do everything, can I? I mean, I do still have to do that PT thing –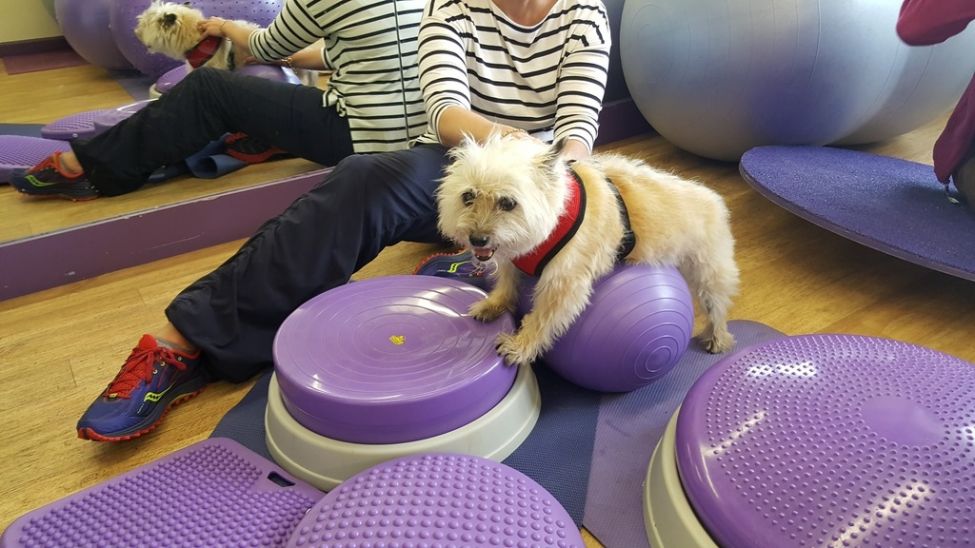 They say I am stronger and I say of course!  I sure fool Mom at home when we try to exercise, don't tell her.  I get a little cranky with her.
I insisted we go to the park.  Really, do I have to tell Mom everything??  Anyway, I was very excited and feeling pretty good but then I got a little tired.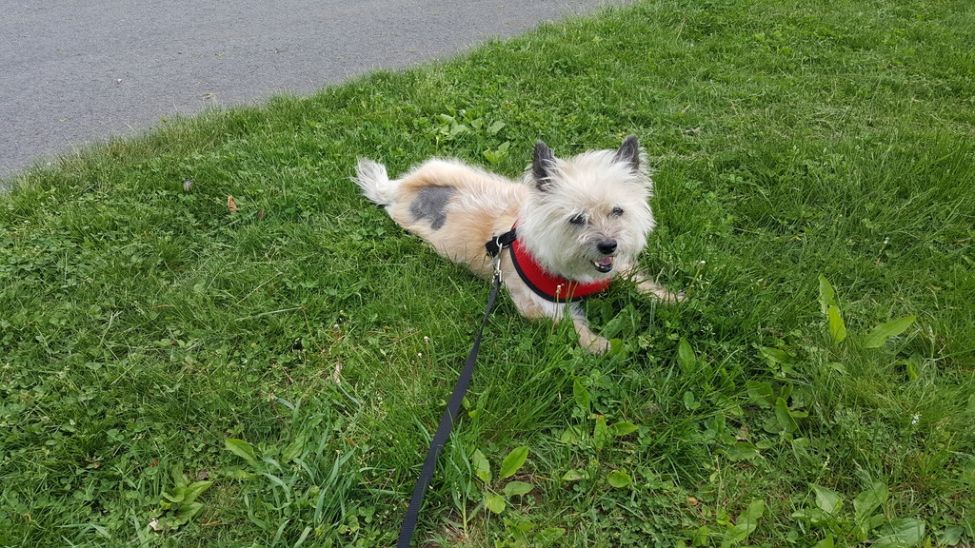 Tracey back, is Tai posting again 🙂 We have some ups and downs but I was pretty happy when she asked to go to the park, which she hasn't done in a while.  Her asking is to stand up and give me the eye and generally act happy and look at me and then out the window.  So off we went!  I let her get a little overexcited and she was moving very fast; I ended up having to carry her back to the car.  Or maybe it's all part of her master plan!
It's been seven months since Tai's amp!  Though she has slowed down quite a bit, I'm impressed every day with her happy attitude, unless we're doing her exercises 🙂   Though she can't take the walks she once did, she still loves riding in the car. Here she is at the park last week!
She tires quickly, but ten minutes outside plus riding in the car makes for a happy girl, especially with a treat and nap after the excursion.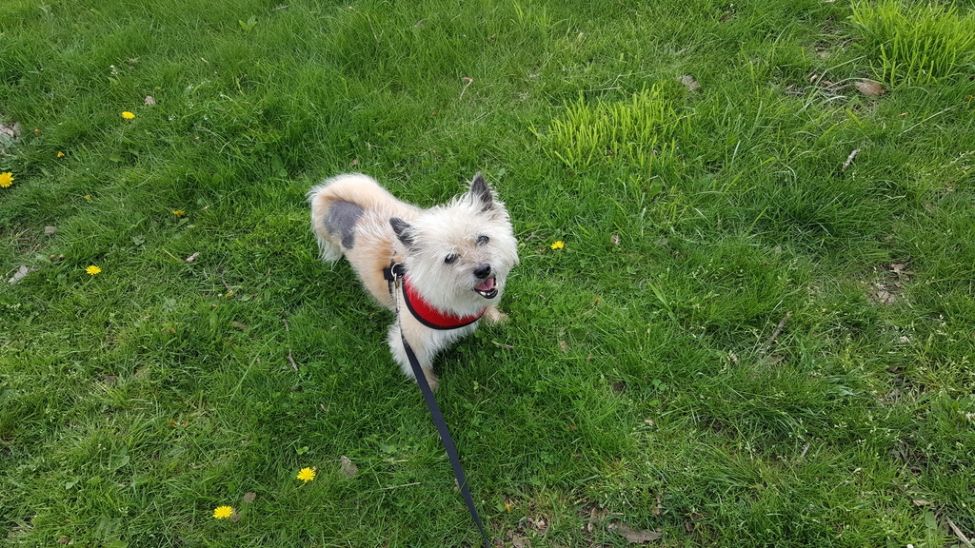 Back to physical therapy yesterday!  After Tai's issues with rear leg weakness and thankfully the subsequent x-rays coming clean, we went to Wizard of Paws for a review with Deb Gross of Tai's situation.  So I am feeling a bit more optimistic with exercise suggestions and I will probably look further into a medical option to help with her separation anxiety when I'm not home.  Most importantly, I will need to adjust my expectations of her capabilities considering her age and arthritis.
First there was a laser treatment to  help with soreness; Tai stayed still for most of it.  Looking sharp!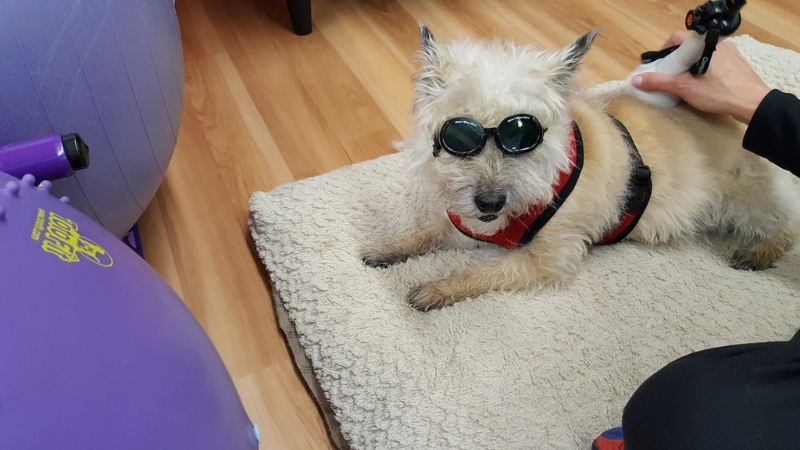 Then some strength exercises with tips and advice for at home work.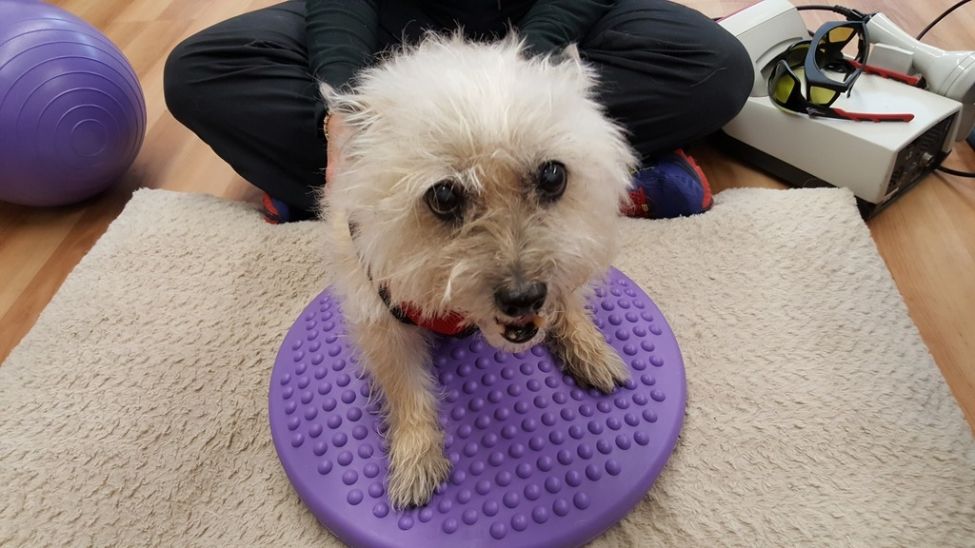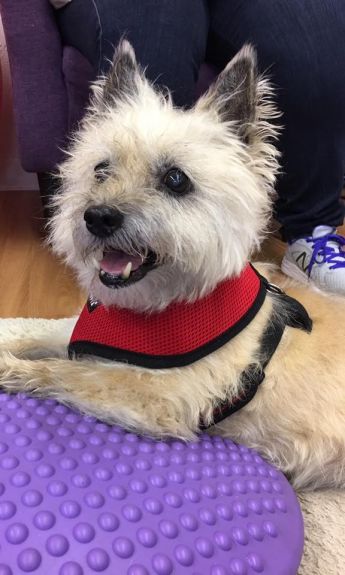 Naturally she took a much better picture for Deb than she ever does for me 🙂 The above pic with her ears up is on the WofP Facebook page.
Very tired on the ride home!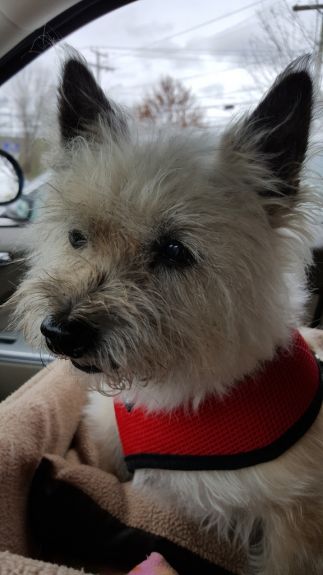 Thanks to everyone for your advice and for listening!
Hi everyone!  Tai again.  We've been busy, which is OK but only sometimes.
So Mom says she had her knee fixed.  We had to get up very early one day and I had to take my walk in the DARK and how can I be expected to poop and pee when it is DARK outside?  I did not like that, and then Mom was out of the house for a bit but Lisa came over which was nice.
Downstairs this…thing got flat, I decided it was mine! Then it went away.  Mom says we have to sleep upstairs again!  I am having trouble doing the stairs at home because it has been a while.  I can go up the stairs at work though.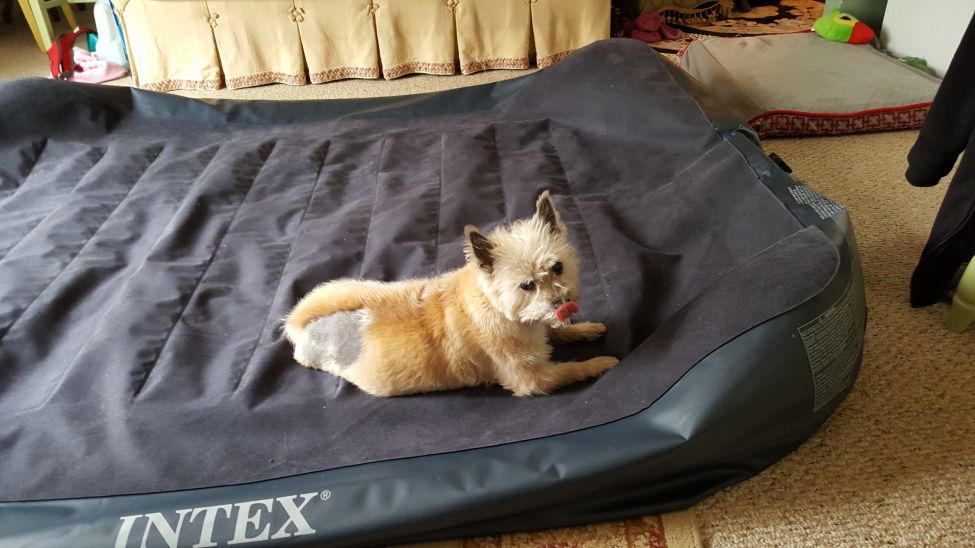 Then this morning we went in the car.  I was happy at first but then I looked out the window and it didn't look right.  I got very suspicious. OK, I got worried and was shaking a LOT.  We were going to see Dr. D, who tries to be nice but I was very scared.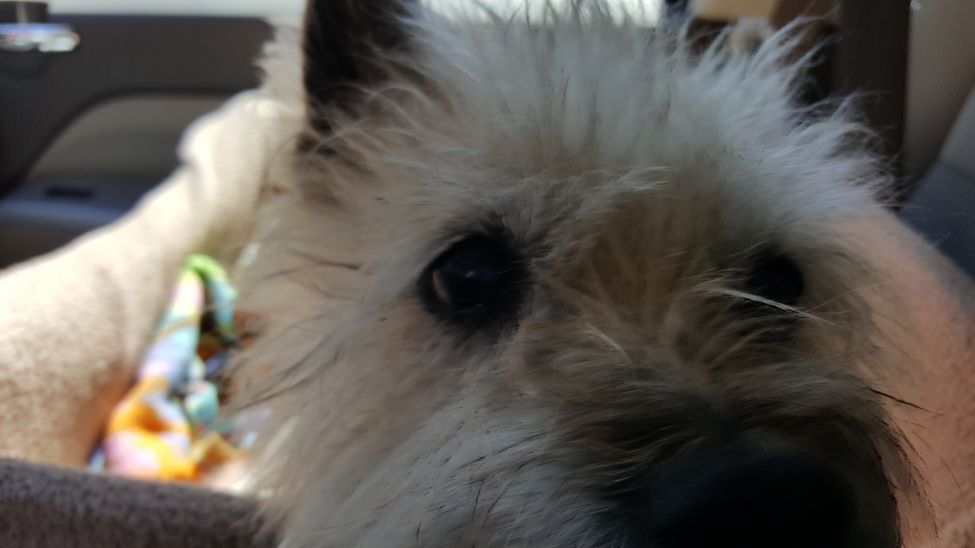 Mom talks about how I get tired and asked Dr. D for an x-ray, which I didn't like.  They told Mom that I was a lot to handle but I am not even 20lbs so I don't know??  All I know is that Mom was VERY HAPPY after the x-ray because Dr D showed her something and said that there are no spots in my lungs.   Of course not, I just get a little tired because I am older and work a little harder.  Mom was worried but she is happy now 😀
Then we went to work.  Did I mention that I can go up the stairs at work (much faster than Mom). I was pretty tired, it is a lot of work to be scared.
After working all day, I'm still up for playing!!  After supper, of course.